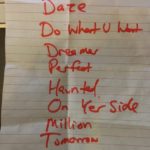 (kung fu neck tie set list)
Hey guys! Welp, this is our first official blog post. The first of many, I think. We want to start off by letting all of you know how much we appreciate you.  A lot of exciting things are starting to happen, and it is all thanks to you, our fans, friends and family. We wouldn't be here without your continued support. Much love. A few years back Chris and I started recording these songs back in Connecticut, in his mom's basement. It was and has been a lot of fun, but we never really expected that these demos would ever even see the light of day. We certainly didn't anticipate the response we've gotten over the past several weeks. We're super psyched!
We would also like to officially announce the arrival of our newest members: Paul (bass & vocals), Josh (keys/guitar/vocals) and Carl (drums). These are some of the most talented and driven guys we've ever played with. Not only that, they are all around awesome dudes with big hearts and big dreams. They've already become some of our closest friends, and we couldn't be happier to have them on our team. Much love to you guys too.
The five of us have been working like crazy honing in our live sound, and we are super excited with the way things have been progressing. We had our first show at Kung Fu Necktie this past Tuesday, and it was a total blast. There were a lot of familiar faces in the audience – we felt very loved. Thanks to everyone who made it out. Oh, and we played with some other awesome acts like Wellboys, Likers and Shy Boys. It was a proper Philly debut. We can't wait to start playing out in Philly and beyond more often. Looks like our next gig will be back at Kung Fu Neck Tie on March 3. Downstairs this time. It's gonna be awesome!
Like I said, we've been working super hard on our live performance, and part of the reason is that we will be playing at SXSW this March! It is the first time any of us have played this festival. We can't wait. We have been demoing a lot of new material too, so if you are going to be in Austin, you can expect to hear a lot of brand new songs.
Well, I guess that pretty much brings y'all up to speed. There may or may not be many more exciting details to tell, but those will have to wait until next time… Thanks for listening everybody. <3