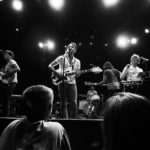 Hey guys,
It's been a minute so I wanted to give you a quick update on what we've been up to these past few weeks. Hopefully some of you were able to tune in for our recent Live at 5 session for the amazing Radio 104.5 in Philly. We played our recently released single "Perfect Vision" and, as is the tradition, selected one cover. We went with Lorde's "Team," which we had a blast doing… so much in fact that we also wound up making a recorded version over at Springhouse Sound. Maybe we'll even release it someday! 😉
We also played Union Transfer last Friday night opening for Cheers Elephant and the now-sadly-on-hiatus Toy Soldiers. The night was incredible from start to finish – probably our most memorable show to date and playing Union Transfer has always been a dream of ours. We were truly honored.
In other Philly news, we play our next show at Milkboy Philly on August 15th. It's part of their three-day birthday party extravaganza. And the best part? The tickets are free! You can read all about it here:
http://thekey.xpn.org/2014/07/23/rock-out-with-cheerleader-the-lawsuits-our-griffins-and-more-at-milkboys-free-three-day-birthday-party/
We're also very excited to announce that we'll be posting a music video for "Perfect Vision" in the very near-ish future, so keep an eye out for that!
Lastly, you can expect to hear a brand new song in a few short weeks. There will also be an EP to follow. Can't wait to tell you all about it!
-Chris